Is your message falling flat on social media? Get engaged!
Social media management is today's most powerful and fluid method of interacting with customers and managing your reputation. The critical nature of this platform to reflect your brand should cause any corporate entity, no matter what size, to place serious emphasis on their social media strategy.
I apply the same techniques that top companies are using to audit your social media presence and develop a strategy based on your goals and your customer habits. Proven methods are producing real-world results to your bottom line. Strategies include: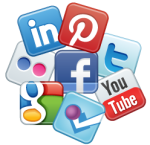 Social media listening
Creating correct image sizes for each platform
Applying effective word strategies
Optimizing cross-platform links that also effect seo
Timing posts for most saturation
Measuring engagement
Analyzing & reporting results for actionable insight
 Contact me today for a truly effective social media management strategy.