Is your website lost in the search engine jungle? Get found!
Organic Search Engine Marketing and Website Optimization has been my core competency since 1996. I have developed hundreds of strategies over the years to achieve top placements for some of the most competitive keyword positions, including #1 on Google for the term "travel."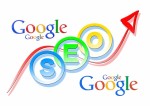 I take painstaking care to locate high value keywords and strategically integrate them into your entire web marketing strategy to provide a comprehensive traffic and exposure campaign that continues to exponentially increase over time.
Contact me today to find out more about how I can help you with an organic search engine marketing campaign.